We've reach a DAO/podcast milestone and will no longer be coming up with opportunities and then posting them to the DAO after the episode drops. Starting with our next episode we'll just talk about the proposals that are active or recently closed. This is a big moment because it means that as co-hosts of the show we are no longer "running" the proposals.
With that in mind this is a post to highlight some of the current best practices for posting to the EGG Snapshot.
First you'll need to log in to Snapshot using your crypto wallet that holds $EGG tokens. For me that is MetaMask.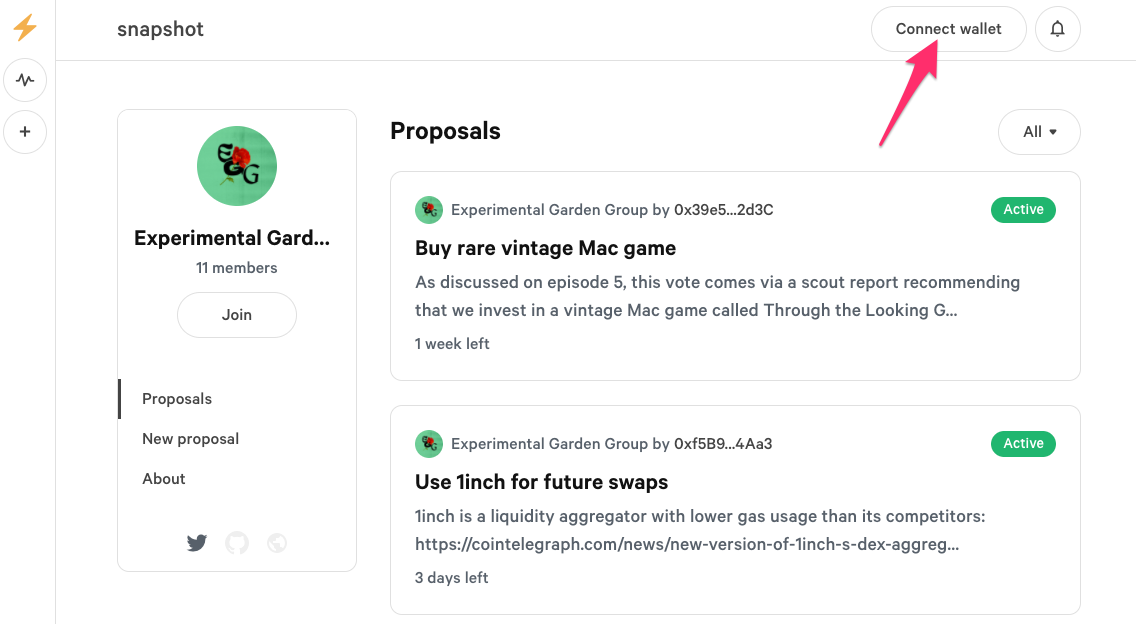 Next, make sure you "Join" the group. Then select "New proposal" in the sidebar.
The proposal name and first two lines of text are what people will see when they look at a list of all the proposals, so In order to be able to quickly scan the proposals please use the following format:
An Emoji + Type of Investment + Title of Investment + (Price in $USD)
So proposals would look something like this:
🌶️ Equity in Tia Lupita Hot Sauce ($1000)
📉 Shares of ProShares Short S&P500 ETF ($100)
🪙 Bitcoin ($200)
🏇 ZED RUN Z10 Genesis Horse NFT (~$540)
Some investments like bitcoin don't really have a type (equity, loan, shares, etc.) so you can skip that. Some purchases may fluctuate by the time we can purchase them so just use the tilde to indicate the approximate value (~$100).
The following emojis will be reserved for internal use:
🗳️ A proposal about process
💸 A proposal about exiting a position
🌡️ A "temp check" to ask a non-binding question
For the first two lines of text try to write up the briefest of descriptions. For example:
Proposal Title: 🥗 Bond for PDX Vegan Restaurant ($100)
First sentence: An off-chain 36-month secured bond at 7.5% for Dirty Lettuce, a vegan Southern food restaurant and bar in Portland, Oregon via the SMBX platform.
After this you can have a little fun. Snapshot allows the use of Markdown, which means you can add some style and images to your post. Have fun.
The most useful Markdown is images (have to be hotlinked) and links.
The most critical thing to add to your proposal is a link to Backdrop, which is where the discussion happens. At the end of your proposal just copy and paste this:
💬 [Join the discussion on Backdrop](https://backdrop.so/project/-Mx5r9_YJVJWX6Qnlwxp/discussions)
After you write the description you'll set up the vote parameters. Generally I recommend choosing "Single choice voting" for the Voting system. And for the choices remember to add "Abstain" as a third option to a proposal.
For the Voting period you can leave it at the default which is three days, but if you'd like to ensure we discuss the vote make sure it's open from a Thursday (when we record) to a Monday (when we post).
And finally, share the link of your vote with the DAO members (right now that is the text thread).